Changing a business fleet to electric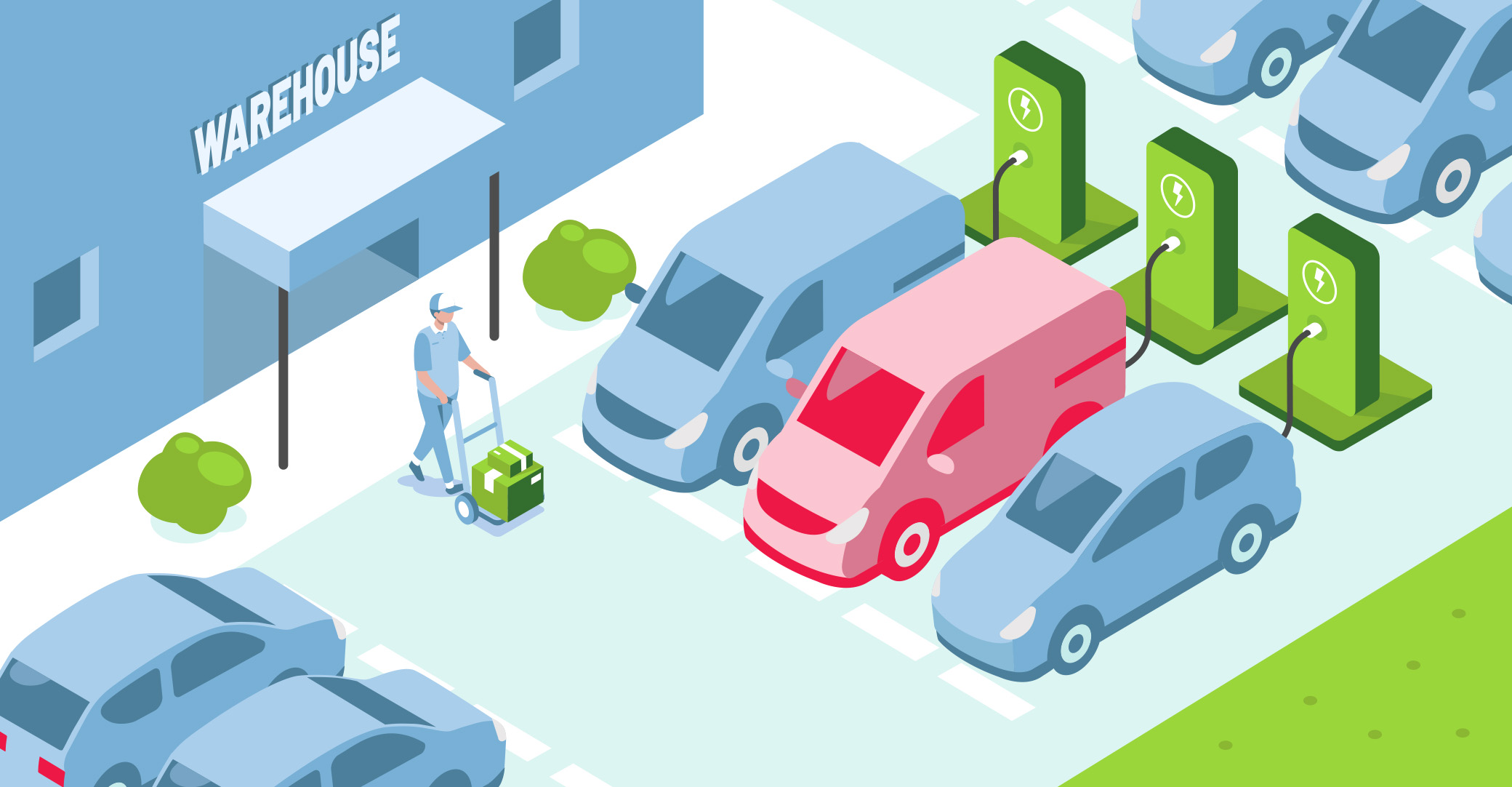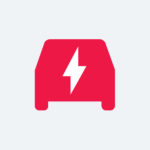 Posted by
The EV Team
January 2021
It's a significant step taking your company car fleet electric. But don't let that put you off.
The benefits to your business, your fleet drivers, and the environment – including local air quality – are enormous. So, where do you start?
Establish the framework for your fleet
It's a step by step process.
You need to commence by framing the argument for moving to electric vehicles (EVs). You can do this by yourself, or request the assistance of a fleet management company to help you through the process.
Start by establishing the reasons behind the move to fleet electrification. This can range from an expanded CSR remit to simple cost savings. Items you should consider are the lowering of CO2 emissions, the cost reductions on the car fleet (no more fuel costs, or at least significantly reduced fuel costs, along with lower maintenance bills), the positive driver advantages of lower benefit in kind taxation, and so on.
The fleet review
The next item on the to-do list is a fleet review. Assess the suitability of your company car drivers to go EV. What is their typical business mileage and commute? Could this be performed comfortably in an EV? Could charging facilities be established where they live? If not, what – if any – is the fallback (see section 2 Choosing an EV – when you live in a flat).
For those drivers for whom an EV is not currently suitable, would a plug-in electric vehicle (PHEV) work instead?
You will also need to review your fleet structure and how employee entitlements will alter, particularly if your fleet grades are based around rental bands. Again, this is where a fleet management company can assist you with a move to a Whole Life value over the leasing period. The Whole Life Cost considers all the cost factors involved in the lease lifecycle of a fleet car, rather than just the base rental cost. This is the only true way to compare different cars 'on a level playing field' basis.
Where the Whole Life Cost of an EV is looking excessive for the driver grade, Fleet Alliance has an approach called a 'blended solution' that balances the Whole Life Cost against the benefit in kind driver savings.
This arises when the taxation benefits are so significantly in favour of the driver. In such a case it is desirable for the employee to sacrifice some of their tax-saving against the balance of the electric car's greater rental. It is very simple for payroll to set up and enables the desired outcome for both business and driver.
EV charger installation
There are two areas you need to consider here. The first is supporting staff with the installation of an EV charger at home.
Currently, the cost of the installation can be subsidised with a government grant called The Electric Vehicle Homecharge Scheme. This assists towards the cost of installation worth up to 75% of the installation cost (including VAT), but limited to £350. Most installations cost between £800 to £1000 so an employee can expect to pay around £500. As an employer, you might wish to consider how you would help with these costs.
In Scotland, the Energy Saving Trust offers an additional £300 towards the installation costs.
The second area is the provision of EV chargers at work. It will certainly encourage staff to use their EVs and PHEVs and is a visual reminder of your company's change of fleet policy. Similar to the Homecharge Scheme, the government offers grant vouchers for businesses. This is called the Workplace Charging Scheme. Eligible businesses can claim up to 75% of the purchase and installation costs, up to a maximum of £350 for each socket. The scheme supports the installation of up to 40 sockets.
The cost of installation is about £1000-£1500 so the likely cost to a business will be around £700 per unit.
However, it's important that you contact your local Distribution Network Operator (DNO) to complete a site survey so you can determine what electricity supply is required and the amount of available capacity at the site. The Energy Saving Trust has some useful information on the matter in this document: Guide to charge point infrastructure for business users.
Further assistance for businesses located in Scotland may be available from the Energy Saving Trust, which works with Transport Scotland to promote the uptake of EVs.
You can also decide, if you wish, to allow drivers to charge for free, or recoup some of the installation costs with a charging fee. Nevertheless, this should be balanced against the overall cost savings the fleet expects to make against previous fuel spend.
Communicating fleet policy
At every stage of the process, it's important to keep your staff informed of the changes you are preparing to make. For many employees, there is often a fear of change, and with EVs a sense of taking a step into the unknown. So communicating regularly with staff and outlining your plans and the benefits of EVs is critical to ensure a smooth transition.
Implementing fleet change
Moving your fleet over to EVs is best completed as leases come up for renewal. You will need extra time to plan and implement the switchover to EVs, since some EVs may take longer to order, although having said that, vehicle availability is beginning to ease quite significantly.
Changing at renewal allows you to deal with small batches of drivers at one go. It's certainly worth considering having an initial test group so you can iron out any issues as the EV rollout accelerates.
We would also suggest you continue to communicate what is happening – and provide feedback from users who have made the change – to get real staff traction on the EV changeover.
Some PR support might also be worth considering to explain to stakeholders and the wider public what you are doing and why – it should make a positive news story for your business.
Review and implement alterations
It's crucial to review with staff that have changed over to EVs after a period of three months. This will give them time to get used to driving EVs and EV charging and also unearth any issues.
Any concerns or difficulties can then be fed back into your new fleet policy and any necessary changes or alterations made.
What's it like to implement business change?
Fleet Alliance managing director, Martin Brown, explains how he's moved the company fleet electric.
"If you want to lead in a sector, there's only one thing to do – and that's by example. From the front," explains Martin.
Fleet Alliance is on the journey to switching its own company fleet electric: currently, more than 70% of the company's fleet is either fully electric or plug-in electric. The company expects to be fully electric across its fleet by the end of 2021 once existing lease contracts unwind.
"I believed it was crucial for a fleet management company to show leadership in the sector," says Martin. "We think that our customers should be moving to an electrified fleet, and it was important for us to demonstrate our belief in that conviction by moving first.
"So that's the crucial thing – showing sector leadership. But of course, there are plenty of other benefits such as fleet decarbonisation, cleaner urban air and significant advantages to benefit in kind."
Martin says staff did not resist the idea, but there was a certain amount of employee anxiety as the company started its electrification journey.
"I think our staff embraced the idea because there was something of a novelty factor, especially for a fleet management company, while the changes to BIK also played a part. But there were a few mental barriers. I think the major issue was the change of mindset. By that, I mean the switch from not really having to think about your journey to one of active travel management. A certain amount of education was required on our part for the mental reset."
First steps
Wanting to move your fleet over to electric is one thing, but actually taking the necessary steps is quite another. Where did Martin start with Fleet Alliance?
"It is crucial to make the cars available on your fleet," he explains. "So it was imperative we had Alternative Fuel Vehicles available on the choice list. While this has become easier in time since there are now more models available, it was certainly an issue for those further down the choice list until cars such as the VW e-Golf and Renault Zoe appeared.
"In many respects, it was easier to start top-down because the cars in that pay scale range worked well – particularly the Tesla Model 3. This was a car that executives wanted, it had the range and the BIK worked. So getting the cars on the choice list is the number one action."
While Martin says the business does not expect to make a fortune in savings – simply because the higher rental of EVs balances out the NIC savings – employees certainly enjoy a significant boost to take-home pay thanks to the BIK advantages enjoyed by EVs.
"In fact, when there is a significant imbalance between the cost of the rental and the BIK saving, we sometimes ask employees to make a contribution to the rental cost out of the tax savings," says Martin.
"We refer to this salary sacrifice element as a blended company car solution. It ensures that everyone wins – business, employee – and, of course, the environment."
What have been the benefits to fleet electrification?
Martin believes the greatest benefit to the business has been the level of employee satisfaction. "It has been a significant gain for our employees," he says.
"It's a strong message for us to deliver to clients. When we are telling our customers that we think they should change to EVs we can demonstrate the benefits because we have done it. So there's an important degree of actual EV knowledge – we have practical, hands-on experience rather than just talking about electrification hypothetically. I also think that, as an early adopter, it will give us an advantage over our competitors."
So what's the advice to other businesses considering electrifying their fleets?
"The first stage is not an easy process," advises Martin. "I would suggest a partner to help you with the process. You need to consult with your staff, understand the upsides and the downsides and why an EV may not work for every driver's work patterns. You need to consider workplace charging, the provision of home chargers and understand all the financial grants that are available to assist you in your electrification goal.
"Overall, set a realistic transition period. Consider what changes you need to make as a business, and what changes your staff need to make. And only then start your electrification journey."
Did you know?
Fleet Alliance is a member of EV100, a global initiative of forward-looking companies that are committed to accelerating the transition to electric vehicles (EVs) and making electric transport the new normal by 2030. EV100 is organised by The Climate Group.
---
What did Fleet Alliance staff think of the switch to EVs?
Grant Boardman case study
Grant Boardman is the client services director at Fleet Alliance, and says he was enthusiastic about the switch in policy. "I really welcomed it, especially when I considered the benefit in kind position. I drove a Land Rover Discovery Sport diesel before switching to a Volvo XC60 PHEV which at the time saved me on fuel and BIK taxation."
Grant was one of the early adopters of the new Fleet Alliance EV policy and typically there have been some minor issues. "Originally I thought I could charge the battery via a domestic 3-pin mains plug. But this involved running a cable underneath the front door and that really wasn't optimal. So I installed a home charger which massively improved the home charging experience.
"However, I struggled with the distance I could travel on the battery. The colder Scotland climate reduced battery range to the point I could only get 20 miles out of the battery – eight miles below the stated range – which is 10 miles short on my commute, so I had to use more fuel than I expected.
"However, I've now decided to go full EV and replaced the XC60 PHEV with the all-electric Mercedes-Benz EQC. After my initial experience of the PHEV, I felt confident to make the full switch – and fully benefit from the tax and fuel savings."
"It's a lovely car. I'm not seeing the advertised 255 miles range, but that's to be expected with the cold weather. Even so, a single charge just about covers my weekly commute and the cost savings are significant, so I'm not complaining too much!"
---
Zoe McGhie case study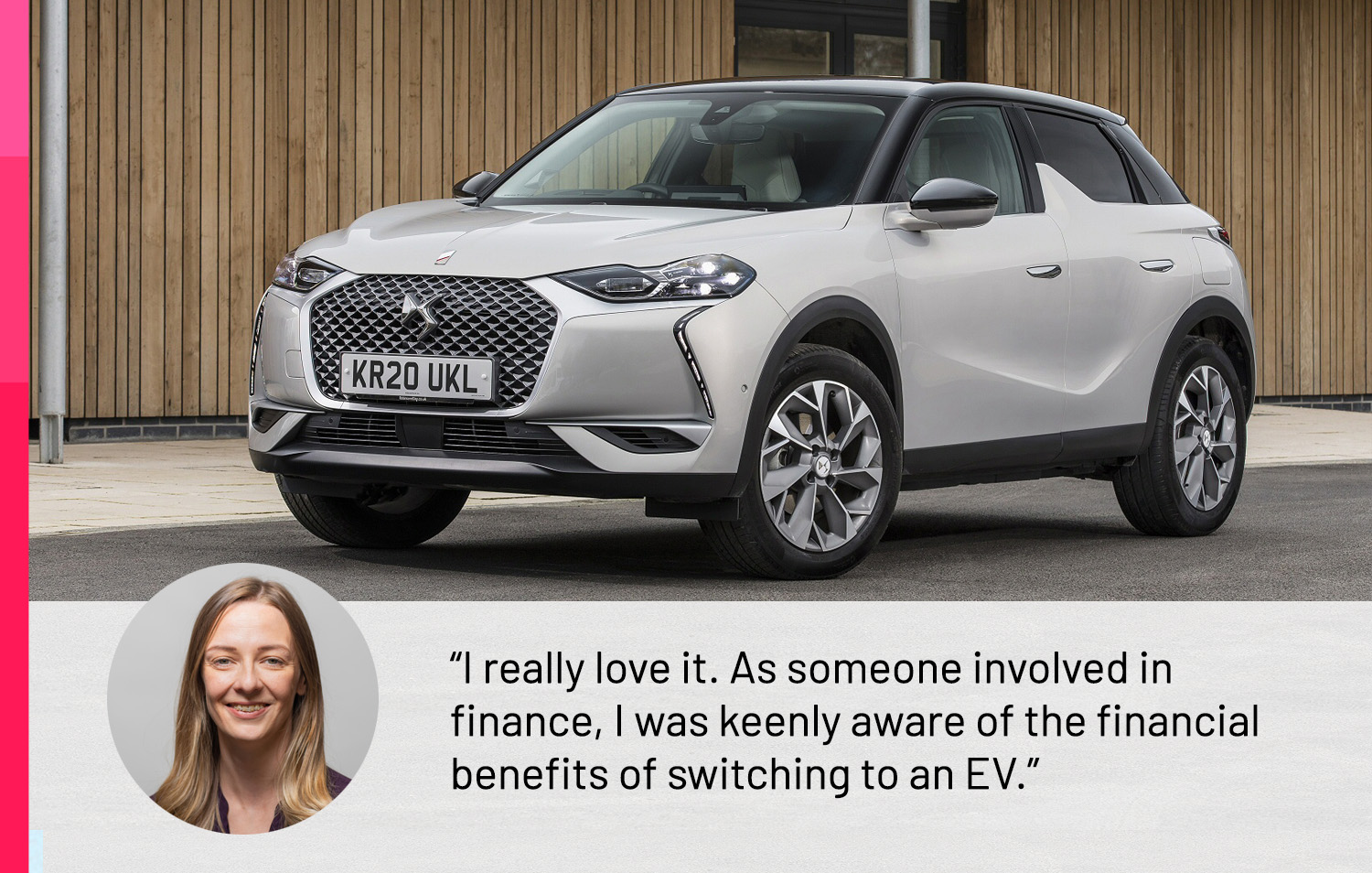 Zoe is the finance manager at Fleet Alliance.  "The all-electric E-Tense is great – I really love it," enthuses Zoe. "As someone involved in finance, I was keenly aware of the financial benefits of switching to an EV."
"In terms of going electric, I've not had any issues at all with charging. I have a Pod Point charge point installed at home and the E-Tense has decent range so I benefit from cost-effective driving and the convenience of not having to visit a petrol station! "
---