Salary Sacrifice
A Salary Sacrifice Car Scheme is an attractive and motivating employee benefit, that will save both your drivers and your business money.
Salary Sacrifice Car Schemes benefit both your employees and your business
Employers benefit from minimal costs
With Salary Sacrifice your business will benefit from minimal costs as well as the added benefit of zero risk from early termination fees. You will also be able to claim significant tax relief from electric vehicles.
You'll also have the added assurance that your employees are driving safer and cleaner cars that will reduce your grey fleet risks.
Employees gain access to a brand-new car
Our salary sacrifice scheme allows your employees to slightly reduce their gross salary in return for the use of a non-cash benefit. The employee then gains access to a brand-new car, with all running and maintenance costs included. This is a great option for employees who may not qualify for a company car.
If you're keen to find out more about the benefits of company cars against a salary sacrifice scheme for your employees please contact us today – our award-winning fleet team are here to help.
The perfect time to switch to electric 
For battery-electric cars, benefit-in-kind (BIK) tax has reduced to 0% for the tax year starting April 2020. It will then rise by just 1% for the following 2 years:
0% for 2020/21
1% for 2021/22
2% for 2022/23
2% for 2023/24
2% for 2024/25
Zero-emission vehicles with a list price of less than £50,000 will also be eligible for the Government's plug-in car grant.
Salary Sacrifice made easy
With Fleet Alliance, you will gain exclusive access to our Salary Sacrifice Calculators. These have been designed to highlight the potential savings for both employees and employers.  For employees, you'll be able to see potential tax and NIC savings with a salary sacrifice car, along with the net cost versus a comparable PCH deal.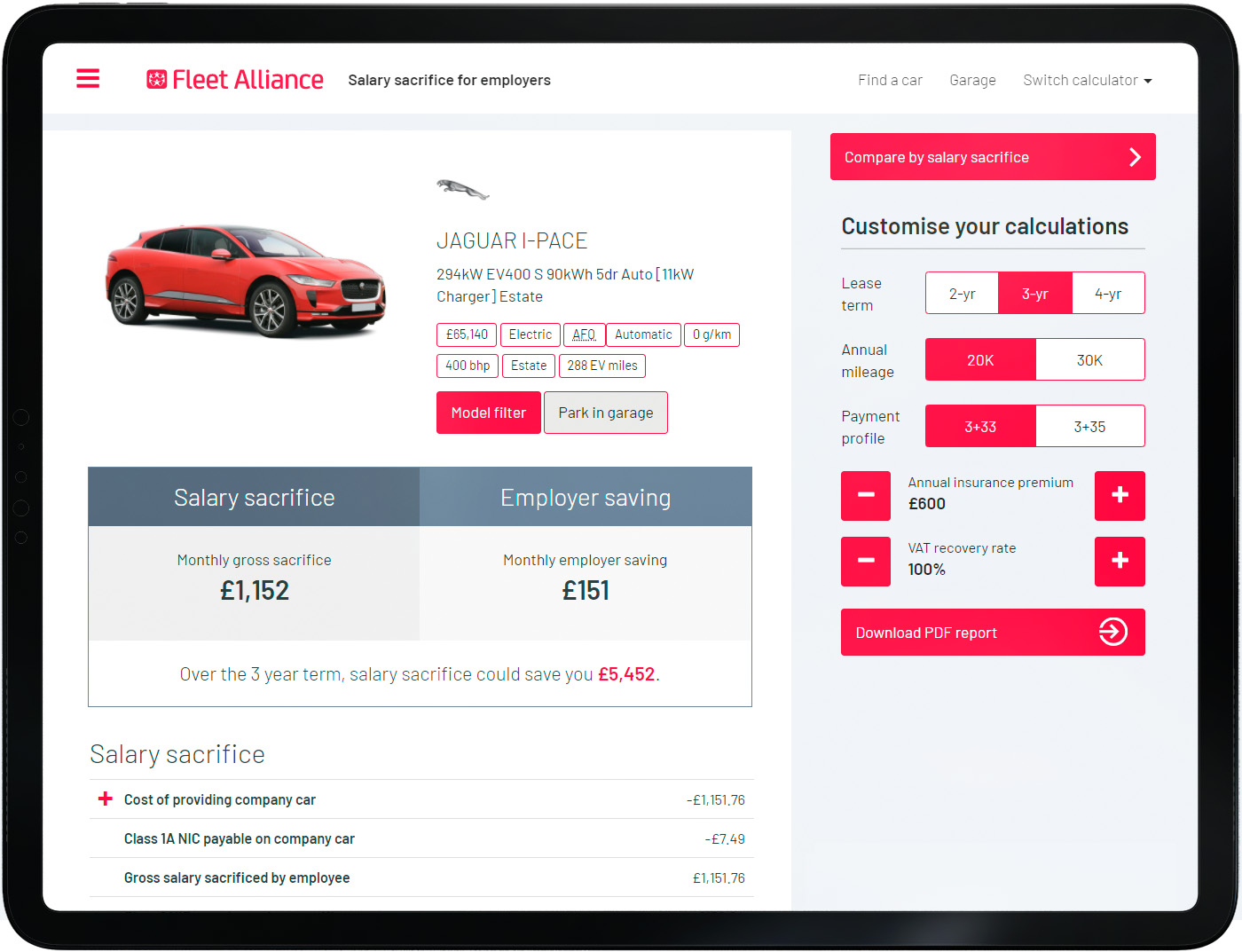 Please contact us for a demo of the calculators.
Is Salary Sacrifice right for you?
An ever-increasing number of fleets have decided to opt for salary sacrifice schemes as a direct replacement to the more traditional company car.
However, this wasn't the original intention for salary sacrifice – to act as a direct replacement – and our insight and analysis would point to the fact that these schemes actually work better when running alongside one another.  We have the expertise to help our Clients and Fleet Managers to fully appraise their fleet make-up; looking at eligible employees, staff turnover, and a range of other key factors.
In reality, salary sacrifice schemes do not always mean additional benefits for businesses or their drivers, and may not provide better cost benefits, in comparison to a company car scheme. It's worth having a full fleet appraisal prior to making a decision – speak to us today.
Download Product PDF
Click below to download a PDF copy of the information presented above for your reference.
Download
Other Solutions
More Fleet 360 products and Fleet Solutions to help you better manage your fleet.
Download a full Fleet 360 product pack
A convenient overview of all the products and services listed above
Download
Best in class service, technology and people
You might know what good fleet management looks like, but have you seen outstanding?
9 Years Running
4 Time Winner
2014 Winner
Multi-Category Winner
2018 Winner
Ready to make the management of your fleet more efficient?
Request a call back
---