Tax-beating RDE2 diesels are on the rise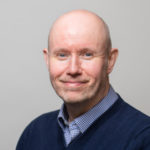 Posted by
Kevin Blackmore
September 2019
Tax-beating RDE2 diesel cars, which are exempt from the standard 4% BIK diesel surcharge, are on the increase with a growing number of new models available.
Analysis of Cap hpi data suggests there are now some 164 new RDE2 diesels on the market from four different manufacturers including Mercedes-Benz, which is leading the way with 75 RDE models, Jaguar Land Rover (JLR) and BMW. Vauxhall is the only volume manufacturer with 21 RDE diesels available.
The growing numbers increase the options for fleet decision-makers who want to select the optimum choice lists for their fleet policies but may have been deterred by the anti-diesel rhetoric of many of the more vocal clean air campaigners.
As a result, diesel's market share has been falling steadily for more than the last two years, not just here in the UK, but across the whole of Europe with petrol engines gaining hugely in popularity – despite the fact that they emit much greater levels of climate-altering CO2 gasses.
New figures for the second quarter of 2019 show that petrol now represents nearly 60% of all new passenger car registrations across Europe, while demand for diesel has continued to fall. Diesel's market share in the EU fell from 36.3% in the second quarter of 2018 to just 31.3% for the same period this year.
In the UK, diesel registrations fell for the 29th month in a row in August, and diesel's market share was just 26.4% in August and for the first eight months of this year is around 27%. In stark contrast, petrol's market share was 63.8% in August and is 65.5% so far this year – a clear indication of the impact of the anti-diesel lobby.
However, many diesel advocates believe that the anti-diesel campaign may have been over-done and that diesel has been demonised unnecessarily. They believe that diesels still offer many high mileage sales or service-oriented fleets sensible and increasingly clean options.
What are RDE2 diesels?
The Worldwide harmonised Light vehicle Test Procedure (WLTP), the new EU-wide emissions testing regime, measures real-life emissions out on the road via Real Driving Emissions (RDE) tests.
The RDE regime is being introduced in two stages. RDE1 was introduced in September 2017 for new car type approvals and applies to all new car sales from this month, September 2019. Vehicles compliant with this standard are designated Euro 6d-Temp.
RDE2 will come into force from January for new type approvals and then from January 2021 for all new cars, which will be labelled Euro 6d.
The benefits to companies of selecting RDE2 diesels are significant. To begin with, they are much cleaner in terms of NOx and particulates than their predecessors, but they have significant tax advantages, too.
The Government has ruled that RDE2 diesels are exempt from the 4% diesel surcharge that currently applies to all diesel cars. And the recent review of BIK tax scales saw a cut of 2% for all petrol and diesel cars from next April 6.
This means a 6% tax reduction for RDE2 diesels from this coming April, which many are seeing as potentially a significant short in the arm for diesel's fortunes and potentially a halt to the decline in diesel sales.
RDE2 diesels currently available
At present, only a handful of manufacturers have RDE2 diesels available to order. But more are expected to follow suit in the coming months.
According to the latest Cap hpi data, Mercedes-Benz leads the way with 75 RDE2 models, including derivatives within the A Class and B Class ranges, along with CLA, GLB, GLC , GLE and GLS models.
JLR currently has 36 RDE2 Jaguar models, including E-Pace, XE and XF models, while Land Rover has 10, including the Discovery Sport and Range Rover Evoque.
BMW has 22 RDE2 models, including 1, 2 and 3 Series diesels, both hatchbacks and estates. And Vauxhall, the only volume manufacturer to date, has 21 RDE2 models, currently all Astra diesels.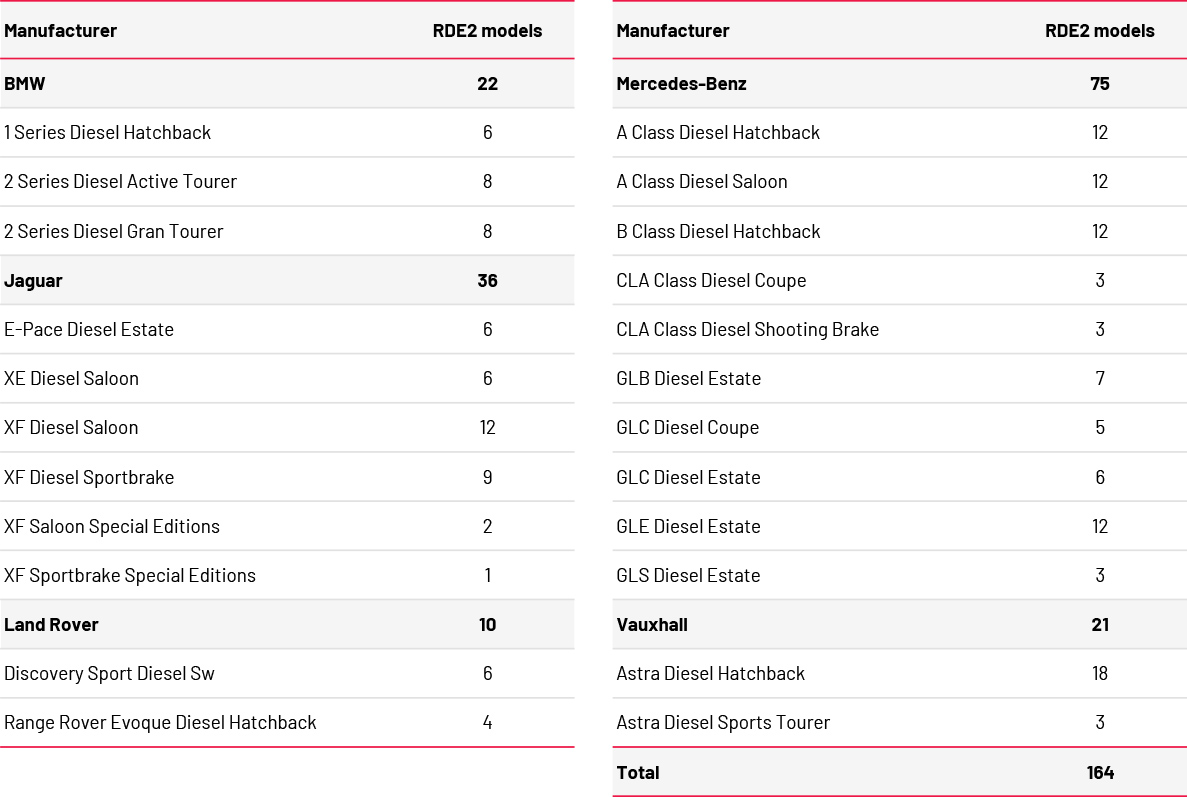 Still too early to discount tax-beating diesels
Martin Brown, managing director at Fleet Alliance, commented: "Although clearly still in limited supply, there are growing numbers of RDE2-compliant diesel cars from major motor manufacturers, including Mercedes, BMW and Jaguar Land Rover, with more to come later this year.
"We believe that fleet decision-makers should take these new, cleaner, tax-beating diesels into consideration for their next fleet replacement cycle as they may well present the best option for long-distance business mileage.
"Fleet managers should also compare them against alternative power trains, such as hybrids and petrol-engined cars, in terms of costs and emissions to assess which is the most cost-effective option.
"But we have never wavered from our view that diesel has a key role to play in the future of fleet mobility in the short to medium term and, taking into account the collective savings available, RDE2 diesels could be 6% cheaper in terms of tax costs from this coming April.
"With a growing amount of choice for drivers as more models come onto the market this year and next, we believe it is too early to discard diesels from the fleet policy mix and fleet managers should keep all their options open," he said.
---
You also might like…
If you liked this article then check out our posts about similar topics
Ready to make the management of your fleet more efficient?
Request a call back
---