Government policy blamed for slump in PHEV sales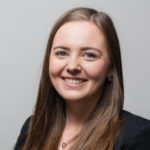 Posted by
Fiona Irving
May 2019
Sales of plug-in electric hybrids (PHEVs) dropped by 34% last month due to a fall in new car buyer confidence following the Government's decision to axe the Plug-in Car Grant late last year.
Latest figures from the Society of Motor Manufacturers and Traders (SMMT) show that in a new car market that fell by 4.1% in April, sales of PHEVs were down by a third and are down by 20% year to date.
The SMMT said this was compelling evidence of the consequences of prematurely removing up-front purchase incentives for PHEVs before the market was ready.
Last October the Government astonished motoring organisations and industry experts by a sudden and unexpected U-turn over plug-in grants, which were effectively abolished for all plug-in hybrid cars and reduced from £4,500 to £3,500 for electric vehicles.
The changes, which took effect from late October, applied to plug-in hybrid cars with a range of less than 70 zero-emission miles, including the Mitsubishi Outlander and Toyota Prius Plug-in, which now no longer receive any form of financial support.
In a parallel move, plug-in grants for all-electric cars with a zero-emission range of at least 70 miles were cut by £1,000 to £3,500.
At the time, the Department for Transport (DfT) said that the Plug-in Car Grants were introduced in 2011 to help promote cleaner cars and meet emissions targets, but that it was now time to focus support on zero-emission models such as all-electric and fuel cell cars.
Manufacturers investing in zero-emission cars
Following this April's sales figures, which were the amongst the worst of the last eight years, the SMMT said that manufacturers are investing heavily to bring ultra-low and zero-emission cars to market, with some 40 plug-in models now available in showrooms, and over 20 more expected to arrive in 2019.
However, if this still emerging sector is to reach meaningful levels, measures and incentives that build business and consumer confidence will be vital, said the Society.
Mike Hawes, SMMT chief executive, said: "While it's great to see buyers respond to the growing range of pure electric cars on offer, they still only represent a tiny fraction of the market and are just one of a number of technologies that will help us on the road to zero.
"We need policies that help get the latest, cleanest vehicles on the road more quickly and support market transition for all drivers. This includes investment in infrastructure and long term incentives to make new technologies as affordable as possible."
The figures for alternative fuel vehicles (AFVs) for April and year-to-date showed that, from a small base, sales of battery EVs were up over 60% in April to 1,517 units, and year-to-date by 55% to 7,499. And while PHEV sales were down, those of hybrid petrol-electric vehicles were up over 30% in April at 6,810, and by 25% year-to-date at over 33,000 units.
AFVs – April 2019 and Year-to-Date

Overall, the UK new car market saw 161,064 units registered in April, only 2017 being lower since 2012, but fleet and business registrations were up by 1% compared to April 2018, with 93,257 units registered compared to 92,337 last year.
However, the bigger picture shows that year-to-date some 463,621 units have been registered to fleet and business – a 6% decline on the 477,683 cars registered in the first four months of 2018.
Diesel sales continue to fall, and were down almost 10% in April and are down by over 18% year-to-date. Diesel's share of the 2019 new car market so far this year stands at just 27%.
Petrol car sales, meanwhile, were down slightly in April but are up overall by 4.2% so far this year, and, in an astonishing turnaround, now claim a 66% share of the new car market.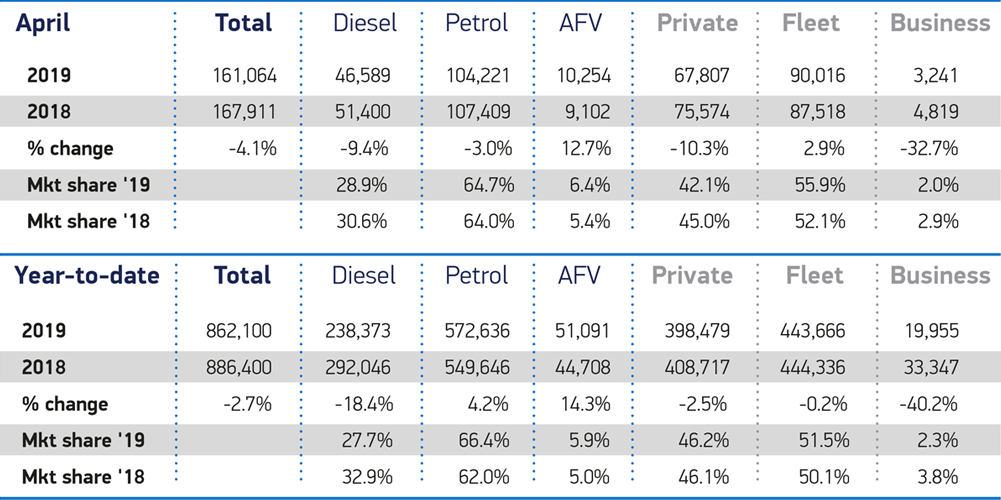 Fleet Alliance managing director, Martin Brown, commented: "These sales figures in April and year-to-date clearly underline the folly of the Government's premature decision in axing support for PHEVs, at a time when their take-up should be actively encouraged.
"Companies that are undecided regarding their powertrain policy as a result of Government policy and the current market conditions should consult with their fleet management provider over the most suitable choices for their vehicle fleet going forward," he said.
---
You also might like…
If you liked this article then check out our posts about similar topics
Ready to make the management of your fleet more efficient?
Request a call back
---