My Arctic Trek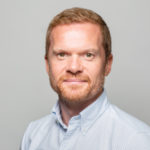 Posted by
Martin Brown
December 2016

Christmas is coming and like everyone, I'm looking forward to a good drink and plenty of turkey. Yes, even brussel sprouts on the big day!
Except, this year's celebrations are going to be a little bit different for me. I'm training for an Arctic Trek I've signed up for, which means I'm going to have to be a bit more…well…restrained.
Indeed, restrained. Unlike that moment when, in a blaze of bravado, I agreed publicly to trek 90km into the Arctic Circle!
Of course, it was a brilliant idea at the time. Now, though, the thought of roughing it in a tiny two-person tent, with temperatures falling as low as -32, is probably not how I would choose to spend a couple of days in late January!
All that, plus the average of 25-35km I'll be covering daily with heavy winter gear, plus the weight of a fully-laden pulk (or a sledge – see how I've picked up the technical terms already?) means the trek really is no joke.
In fact, I reckon it could be the biggest mental and physical test I've ever put myself through.
However, apart from the chance of seeing the Northern Lights in all their glory, the only thing that's getting me through this brutal prospect is knowing what a worthwhile cause I'm helping.
That cause is the Glasgow Children's Hospital (formally Yorkhill Hospital), where 160,000 babies, children and young people are treated. By being a bit uncomfortable for a couple of days, I hope the money I raise will ensure that their young patients and their families will continue to receive the best possible care.
In particular, money raised as part of this event will help fund enhanced medical equipment to help doctors, nurses and surgeons treat these patients.
They also offer family support services that care for parents, families and carers during these difficult times.
Finally, it's good to know that the cold and pain I'm likely to experience, will help fund paediatric research that will benefit future generations of Scotland's children.
I know you're all bombarded with good causes, so don't feel under any pressure to support, but the link is below for those who are feeling generous.
Wish me luck!
---
You also might like…
If you liked this article then check out our posts about similar topics
Ready to make the management of your fleet more efficient?
Request a call back
---