Should we move to all electric cars and vans by 2035?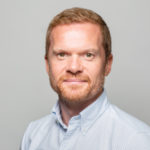 Posted by
Martin Brown
May 2019

There was a fair amount of debate recently about this: the Committee on Climate Change reporting on 'Net Zero – The UK's contribution to stopping global warming'.
To paraphrase rather loosely the 275-page report, it essentially said that the UK could get to a net zero carbon position by 2050.
Net zero is not to be confused with zero emissions by the way; but a position where any CO2 emissions are counterbalanced by CO2 absorbing sinks – anything from carbon capture technology to reforestation.
If this sounds a bit far-fetched to you, the tone of the report certainly doesn't reflect it: "net-zero is necessary, feasible and cost-effective," says the report.
I've been thinking about the report long and hard. Particularly the report's desire to have all cars and vans zero emission by 2035 – at the latest, 2030 is preferable – rather than 2040. That's quite a stretch.
Can we do it? I think the answer to that is affirmative.
Achieving 'Net Zero Carbon'
In fleet terms that's five change cycles away; for van fleets three to four depending on usage cycles – an area where it will probably be more challenging, but still achievable.
Is there the will for fleets to move in that direction so quickly?
Again, I think there is. We're beginning to see it in the fleets we manage. For example, IT and consulting giant, Atos, have rolled out an entirely separate electric vehicle company car scheme for their employees – which is available even to those not currently eligible for the existing scheme.
The electric vehicle scheme only launched in February, but early uptake has been very encouraging and looks set to increase further with exciting new models due this year from a range of manufacturers including Tesla, Volkswagen and Audi.
And from what I'm reading from industry analysts, much might be down to manufacturers delaying the introduction of zero-emission cars to make future group fleet CO2 emissions easier to achieve. Whether such gaming of EU CO2 emission regs is real or not, we know that from 2020 availability will be much more significant.
Kia and Hyundai says that their excellent electric vehicles will be in plentiful supply next year.
Volkswagen poised for massive electric roll out
More importantly for the market overall, the Volkswagen Group is building up a massive bow wave of electric vehicles that will wash across the shores of the UK starting 2019 before becoming almost tidal in 2020.
The infographic below – from the company's Quarter 1 2019 operational report – shows Europe to be the main beneficiary of its EV expansion as it increases battery electric vehicles from 25,000 to more than 500,00 in three years from 2018-2020.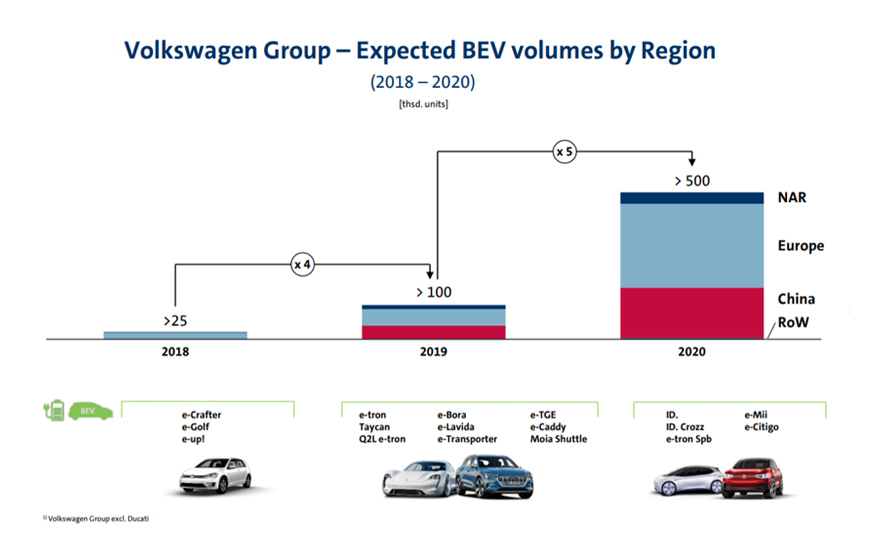 That is a significant ramping up of zero-emission vehicle availability. And I think that will be the catalyst for fleets to really start to switch onto zero-emission cars.
And once that happens, my suspicion will be that fleet adoption of zero-emission cars will accelerate rapidly.
Now, of course, the Committee on Climate Change is representing its findings to the government and its recommendations for government action.
Whether we have a government able to push through such a vision for a more sustainable future is questionable.
But I am convinced that, given the correct taxation and incentivisation framework, plus a fit for purpose recharging infrastructure, fleets can move to a more sustainable position. And, perhaps, more swiftly than anyone now anticipates.
Are you thinking of going green?
If you are looking to transition your fleet to ultra-low emission and zero emission vehicles, we have produced an easy-to-reference white paper on taking your fleet electric. It is freely available to download and sets out the benefits of going electric and the steps your fleet needs to consider prior to electrification.
Alternatively, if you are new to electric or hybrid vehicles and are considering a personal lease, Fleet Alliance Group brand Intelligent Car Leasing has recently launched a new electric and hybrid deals section on their website. In addition to the latest offers you will also find some helpful guides and frequently asked questions.
---
You also might like…
If you liked this article then check out our posts about similar topics
Ready to make the management of your fleet more efficient?
Request a call back
---