My journey into an electric company car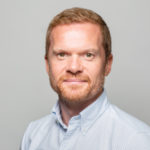 Posted by
Martin Brown
September 2018
You know, I really don't like to be much of a follower… but in this case, I am. I'm following Grant in going green.
You might recall that Grant Boardman, our Client Services Director, wrote in a blog that he was going green – ditching his Land Rover Discovery Diesel for a plug-in hybrid Volvo XC90. Well, I'm going a step further. (I couldn't follow Grant too much!) I'm going fully electric – swapping my Audi S7 for a Jaguar I-Pace.
It's time to say goodbye to the throttle jockey joys of the fabulous Audi and turn to something greener. But that doesn't mean I'll be lacking for the pace.
Oh no…
The Jaguar I-Pace rockets to 60mph in 4.5 seconds; 0.1s faster than the S7 for the standing sprint. And while I'm sure I'll never notice that 0.1sec, the difference is that in the Jaguar SUV I'll be emitting zero emissions. A far cry from the Audi's 220g/km of CO2.
So while I might be getting a little bit more sensible, I'm really not sacrificing any getup and go.

Then there's the range thing. Jaguar's official range is 292 miles. That's probably closer to 245 in real life I suspect depending on how it's used.
So that's easily doable in my commute to work, which is 180 miles each week. That's a week on a single charge. And if I'm on a longer journey, then after 200 miles it's time for a stop anyway. The Jaguar can then be recharged at a fast-charging station – up to around 80 miles in half an hour – while I recharge myself with coffee. With the additional juice in the battery, it gives me a further 125 miles of range. So from that point of view, I've satisfied myself with the range aspect. So I shouldn't get stuck in a car that's run out of 'fuel'.
As this is a company car, I'll be charged benefit-in-kind tax. The company car tax on an electric car is on a bit of a roller coaster at the moment.
This year I will be charged at 13% on the company car tax scale charge; the following year 16%; but the year after it drops to 2%. It means that in 2020/21 I will be paying under £50 a month company car tax. Not bad for a car that's over £60,000 and has sub 5.0-second mph ability.
At the moment we have no visibility on the benefit in kind tax going forward, but every indication from the Government, through its Road to Zero strategy, suggests that Ultra Low Emission Vehicles (ULEVs) will be taxed less than conventional petrol and diesel engined cars.
Whatever happens, though, I will be increasing the number of Fleet Alliance staff driving ULEVs to 29%. It means that, once my Jaguar arrives, there will be an even broader range of hybrid, plug-in hybrid and electric cars on the Fleet Alliance company car scheme. As we offer multiple ULEV options to all company car drivers, I can only see this number growing as more staff start taking the greener company car route.
And I'm looking forward to the start of my journey into electric cars. I'll keep you posted on how I get on…
---
You also might like…
If you liked this article then check out our posts about similar topics
Ready to make the management of your fleet more efficient?
Request a call back
---