Hands-free driving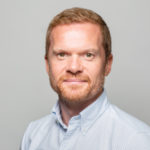 Posted by
Martin Brown
February 2014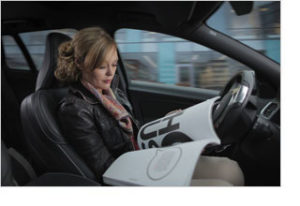 Hands-free. I'm not talking about your mobile phone, which I'm hoping is hands-free when you drive. No, I'm talking about the steering wheel.
Would you be brave enough to let go and allow the car to self-drive you?
It's an eerie concept isn't it?
Driving without having control. I don't know about that… But already we have many assist services that take away some of the effort involved in driving.
The most obvious is cruise control. You've already taken your foot off the accelerator and with the development of adaptive cruise control, you don't need to touch the brake – the car modulates your speed depending on the traffic ahead.
And then there's park assist – you might not have tried this yet, but basically the system 'scans' a suitable parking spot and then parallel parks for you; all you need to do is put your foot on the brake when appropriate.
There are plenty of other systems that already operate automatically for the driver – auto headlights, rain sensitive wipers, and so on. So there is plenty you don't have to think about. But actually not driving? Autonomous driving eliminates driver error so making the roads safer – it will also reduce crash repair bills too.
Well, there are some good reasons why you might want to introduce autonomous driving to your fleet in the future.
One of the benefits is greater safety for drivers, which covers duty of care compliance.
Autonomous driving eliminates driver error so making the roads safer – it will also reduce crash repair bills too.
Another benefit is reduced CO2 pollution – in some circumstances fuel consumption can be cut by up to 50 per cent, so helping reduce fleet running costs.
And the other final big gain that I can see is efficiency. Drivers can get on with work rather than spending time directly at the wheel, or simply relax, take phone calls, or use tablets to plan ahead.
The car makers are forging ahead with autonomous driving research.
Mercedes has already demonstrated autonomous driving successfully with its S 500 INTELLIGENT DRIVE research vehicle. The car covered 100km (60 miles) of varied conditions ranging from traffic lights, roundabouts, pedestrians, and cyclists to trams all 'hands-free'.
Volvo will commence the 'Drive Me' project in the company's Swedish hometown of Gothenburg. In 2017, 100 customers will join the project using 100 self-driving Volvo cars driving on selected public roads in and around the city.
Meanwhile the European research project for safe automated driving, AdaptIVe (Automated Driving Applications & Technologies for Intelligent Vehicles), commences on the 7th February at the MobileLifeCampus in Wolfsburg, Germany, involving 29 partners
And BMW is promising that autonomous driving will also be fun: as well as hands-free driving in traffic, BMW is promising autonomous power slides too!
We already have auto pilot on aeroplanes that takes the monotony out of flying; in the future we'll have the same for cars. And I think it will be a technology that fleets should really embrace.
---
You also might like…
If you liked this article then check out our posts about similar topics
Ready to make the management of your fleet more efficient?
Request a call back
---