Why Glasgow City needs to be as bold and ambitious as Volkswagen and Tesco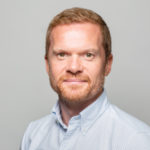 Posted by
Martin Brown
December 2018
It's not often you see an automotive headline that takes you aback.
But in the last fortnight we've had two: the arrest of Carlos Ghosn, the infamous 'Le cost cutter' chief at the Renault-Nissan-Mitsubishi Alliance and one of the most significant automotive players in the world.
And, closer to home, the announcement by Volkswagen and Tesco of the roll out of 2400 free-to-use EV chargers at 600 of the supermarket's stores. These will be installed and maintained by Pod Point.
While the former will have repercussions in the corridors of automotive industry, the latter move will have repercussions throughout the United Kingdom.
These chargers will be the 7kW fast charger variety; in addition for those who need an ultra-quick top up there will also be rapid 50kW chargers which can be used on a pay as you go basis.
Just think about it for a minute.
By 2020 there will be a network of 2,400 free-to-use EV chargers based in the car parks of one of the largest grocery supply chains in the UK. No payment required; top up while you shop. Wow!
Can Glasgow City – where Fleet Alliance is located and provides two free-to-use chargers at our Skypark base – be as brave and so forward-thinking?
I hope so.
The city has more roads than any other UK city – more so even than Birmingham, apparently. It also has a motorway that bisects the city.
A new report issued last week by the Glasgow Connectivity Commission, chaired by Professor David Begg, said that the city's centre and transport links needed a radical overhaul to foster better opportunities for the city's inhabitants and increase business growth.
Among the proposals are significant investment in the bus system, a smart grid system to separate different types of transport, and greater pedestrianisation of the city centre.
It comes as Glasgow prepares to introduce a Low Emission Zone at the end of 2018.
How will Glasgow City Council respond to the report? Positively and with ambition, I hope.
The opportunity to reduce transport emissions and provide more inclusivity, while generating business growth, is an aim that should be fully grasped In the same way that Volkswagen, Tesco and Pod Point have shown with their EV initiative.
---
You also might like…
If you liked this article then check out our posts about similar topics
Ready to make the management of your fleet more efficient?
Request a call back
---