Frankfurt's future cars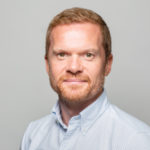 Posted by
Martin Brown
September 2017
The Frankfurt Motor Show is always a massive excuse by the German car makers to show off their latest products.
The new Audi RS4 Avant is one (oh, yes please). The Mercedes-AMG Project ONE another (I'd happily wait for that). And the 600bhp BMW M5 (reckon I could tuck that away in my garage, too).
And it wasn't just the Germans. Ferrari had its Portofino – the updated version of the California T with its clever folding roof, lighter chassis and more power.
OK, OK, I'm drooling…
I might have been wowed by these, but what fascinated me more than the power products were the products of the future. The products that need plugged in power to motivate them.
So what were the cars casting the green glow around the halls of the Frankfurt Motor Show?
Let's start with Audi. The company focused not only on electric but on varying levels of autonomy.  There was the Elaine EV (electric vehicle) featuring Level 4 autonomy (pretty high levels of self-driving although you'll still find a steering wheel and pedals for the driver to operate), and stepping up a level to fully autonomous was the Aicon (look, no steering wheel or pedals).
The latter concept was a luxury 2+2 saloon which Audi likened to a luxury cabin. Elaine is a concept that looks much closer to production, with a range of over 310 miles not to mention a blistering 0-62mph time of 4.5 seconds.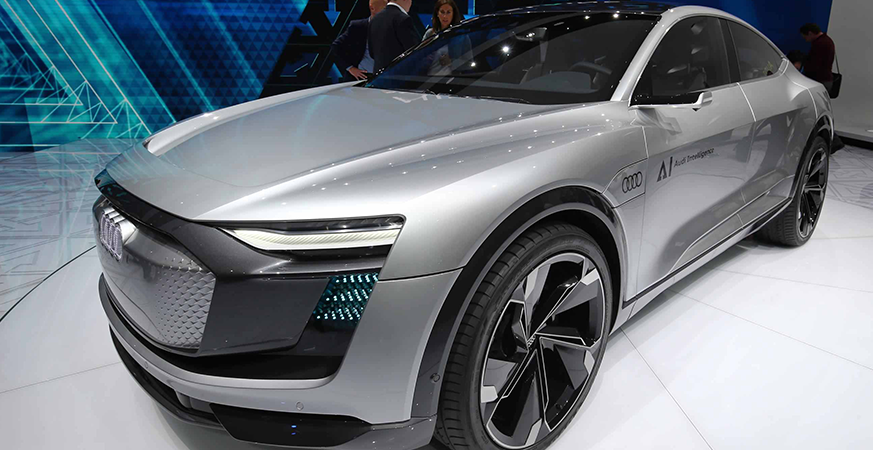 Next up in alpha order was BMW. The company has just launched the latest version of its i3 model, a sportier version called the i3s. And that is available now. If you are prepared to wait a few more years, you could be stepping into this, the BMW i5 – sitting between the current i3 and i8 models – previewed as the BMW i Vision Dynamics.
Featuring a highly exaggerated kidney grille, this is a four-door Gran Coupe with long-wheel base and virtually no overhangs as the body wraps aerodynamically around the large aero wheels. All-electric range is just over 370 miles while if you want to shorten the range but have some fun, 0-62mph is powered out in 4 seconds…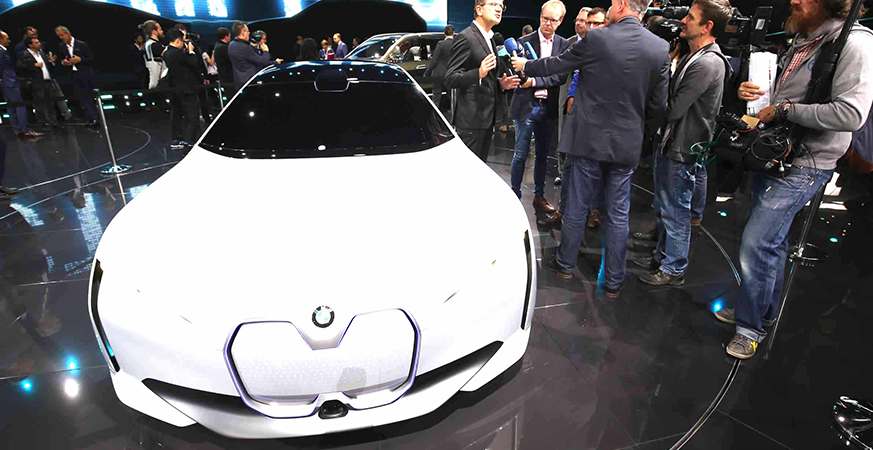 My next choice is non-German, but the one I really like best of all – Honda's Urban EV. There's a very retro feel to this delightful design (think Mk1 Golf GTI, maybe a touch of 205 GTI, or first gen Civic), and what's even better, a production version is due by 2019. The Urban EV is shorter than the current Jazz and you get in an out via rear hinged doors. Great to see Honda hitting the straps again.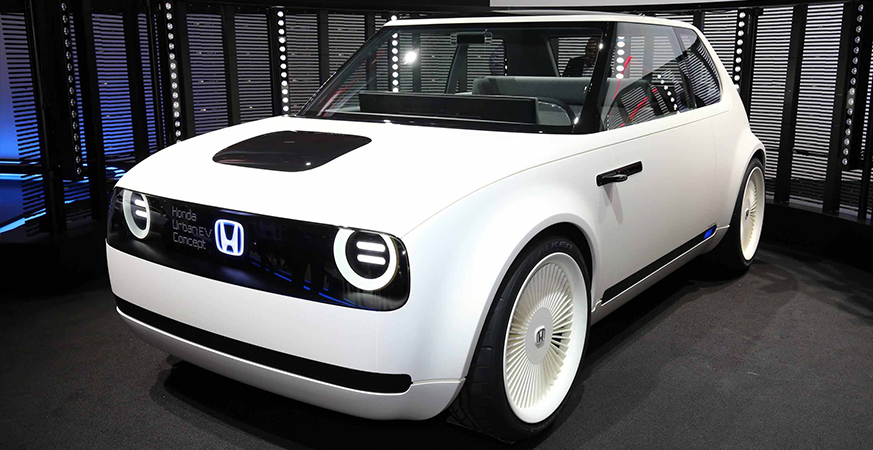 Back to Germany once more for the Mercedes stand and the launch of the EQ sub-brand. Not something you need to fiddle with on your amplifier, EQ is all about electrification, and the first car to wear this label will be the luxury class S560e model, a plug-in hybrid car with some 30 miles of electric only zero emission range.
The Concept EQ is a hatchback crossover, and fully electric EQ models are expected to deliver a 250 mile range. We will only have to wait 18 months to see the first of these EQ models, the EQC SUV. Apparently, Mercedes is planning a series of modular batteries so that you can buy into the range at different price points.
From Germany to…Oxford, the home of the MINI and the MINI Electric Concept, which will become a production model by 2019. It's similar to the MINI Hatch, but wider and featuring flush surfaces. It will use the BMW i3 powertrain, so expect a range of 190-200 miles and plenty of the fun, go-kart handling we've come to expect from MINI.
So that's a preview of what's coming to you over the next few years – and it looks very exciting. It means fleets will start to look very different in the future – but are you prepared for the changes?
---
You also might like…
If you liked this article then check out our posts about similar topics
Ready to make the management of your fleet more efficient?
Request a call back
---