What's stopping you going EV?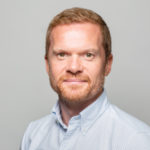 Posted by
Martin Brown
February 2019
What vehicle sector do you think is showing greatest growth? AFVs. That's where the action is.
I was looking over the January registration figures from the Society of Motor Manufacturers and Traders (SMMT). Considering the political turmoil facing the UK, I thought a 1.6% downward movement on the same period last year was a decent performance.
Fleets, businesses, private individuals – they all need to keep on the move, make things happen, take decisions. Unlike….no I won't go there. But the one area that really caught my eye was this: the Alternative Fuel Vehicles (AFV) section. These are hybrid cars, plug-in hybrid vehicles (PHEVs), and electric vehicles (EVs).
Registrations were up by over 26% on this same period last year. That's a big leap forward. Now, I should add that such growth is coming from a low base. But if you needed persuading that electrification was on the up, then this is a significant signpost.
It's supported by the latest findings from the annual Fleet Green Perspectives Report undertaken on behalf of Kia. Carried out by Vanson Bourne in November last year among 150 fleet managers, the survey found that 65% of those fleets included both EVs and PHEVs. This is up 27% on the previous year's survey.
So a big tick in the going green box for them.
However, the same survey also found several reasons that were hobbling further electrification. Central to the question of 'what's stopping you going EV?' is the issue of range.
80% of the fleet managers surveyed said that there was insufficient range on PHEVs and EVs. Following on from range was the issue of cost – 39% saying EVs were too expensive; then the issue over how quick to charge (31%); followed by charging infrastructure (23%).
I can sympathise with all these concerns; they are very real. But they also need further consideration.
Insufficient range
The average range of an EV is between 100-130 miles. That's OK, but it's hardly brilliant. However, that's an average. The latest generation models are now reaching up to 280 miles per charge (such as the new Kia e-Niro, recently voted What Car? Car of the Year).
The best-selling EV in 2018 was the Nissan Leaf. The new model has a range of 168 miles between charges. If you drive 500 miles a week with a max of 130 miles per journey then this is easily achievable in an EV. So range can be an imagined problem, rather than a real issue.
Cost of EVs
It's hard to argue this one. Prices remain at a premium over conventional petrol and diesel cars. And, while residual values are rising, they have some way to go before monthly fleet leasing rental costs start to drop.
But their in-life costs are much lower. According to Go Ultra Low, the Government and manufacturer-supported information website for electrification, the annual savings on a fleet of 10 EV technology cars is £14,000.
If we consider the BIK and NIC advantages, there are some huge cost savings to be won for both drivers and businesses.
If we compare the Leaf to the best-selling Nissan Qashqai SUV diesel over a fleet of 10 cars, the saving on BIK is £3,070 to the drivers. The savings in NIC are £4,580. And that's just for the current tax year.
So, yes, EVs are costly in the first place, but savings can be substantial all round.
How quick to charge
Most EV drivers I have spoken to tell me the same thing: after two weeks, the anxiety created by having a full battery at every available opportunity, ebbs away. Like fuel, EV drivers tend to fuel up when required.
According to Pod Point, an EV charge point supplier, 60% of charging occurs at home; 30% at work; and the final 10% on the move.
Most charging occurs overnight. So charging time isn't an issue. But as a guide, a 7kW home charger will fill a Leaf's battery to capacity in four hours.
Out on the road, a rapid charger will deliver 80 miles in an hour – so there's not much else to do but have a coffee and a sandwich at that point.
Nevertheless, time taken to charge is rarely a substantial issue, given most charging happens overnight.
Charging infrastructure
All I can say is this: it's getting better. I find this one harder to defend. It's not the amount of chargers available, so much, as finding ones that work.
Out of service chargers are a real bugbear for EV drivers. Nevertheless, the network is growing. According to Zap-Map, which shows the nationwide location of every charger, there are now nearly 19,500 connecting points at over 6,700 locations. There are also 4,300 rapid chargers available compared to just 30 in 2011.
Still, I admit it's a problem. But a small one if most charging occurs at home.
So what's stopping you going EV?
I tell you what might hold you up – that's vehicle availability. Delivery times can be awkwardly long. But that shouldn't put you off. It will give you the time to plan for a greener fleet before you make the move. And I'll take great joy in watching those AFV SMMT registrations grow further.
---
You also might like…
If you liked this article then check out our posts about similar topics
Ready to make the management of your fleet more efficient?
Request a call back
---