Grant goes green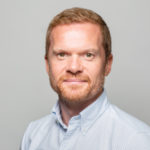 Posted by
Martin Brown
June 2018
It's true. After years of company car driving I'm taking my first steps into greener motoring.
I'm moving to a plug-in hybrid Volvo XC60. That's the T8 Twin Engine model with the ability to run up to 28 miles on zero emission mode.
Why?
Well, there were twin drivers: Fleet Alliance has a big green agenda to help companies take greener decisions that lower the environmental cost of fleet motoring; the second was reducing my benefit in kind exposure.
My current car is a Land Rover Discovery Sport and I'm paying nearly £400 a month in BIK tax. So I was looking for something to lower my tax or possibly consider a cash alternative. But I like a company car and didn't really want to do that. But I did want another SUV.
And that's where the Volvo XC60 made such sense.
My current Discovery Sport has CO2 emissions of 139g/km and monthly BIK of £367; the new Volvo XC60 has 52g/km of CO2 emissions and BIK of £238 – despite a P11D value that is £17,000 more than the Land Rover. A BIK saving of £129 a month is well worth taking – especially when you have kids!

The other reason was my actual journey structure – and this is something we analyse for clients: how is the vehicle used? Are you making the correct choice of vehicles for the journeys being undertaken?
My mileage is 15,000 a year. Most of my business travel is by train or plane, simply because of our Glasgow location. So I don't need the diesel for mileage reasons.
I come into the Fleet Alliance HQ about three times a week and my commute is 21 miles. So I can do that comfortably within the zero emission capability of the Volvo. We have some Fleet Alliance provided EV chargers at Skypark where we are based, so  I can recharge the Volvo for my journey home. Again in zero emission mode.
I know this, because I tried it with a Volvo XC60 T8 I had for evaluation. And when I'm at home, I can recharge it via a three pin plug from the hallway – I've ordered the optional 4.5m charge cable to make sure it reaches.
Charge time takes about three and a half hours.
And of course, it's not only BIK I'm saving, but fuel costs too.  I reckon I'll be saving over £20 a week on diesel – and just as importantly, helping improve the air quality in Glasgow.
So that's why Grant is going green!
Savings for me in BIK and fuel; savings for air quality around Glasgow. It makes us all winners.
---
You also might like…
If you liked this article then check out our posts about similar topics
Ready to make the management of your fleet more efficient?
Request a call back
---